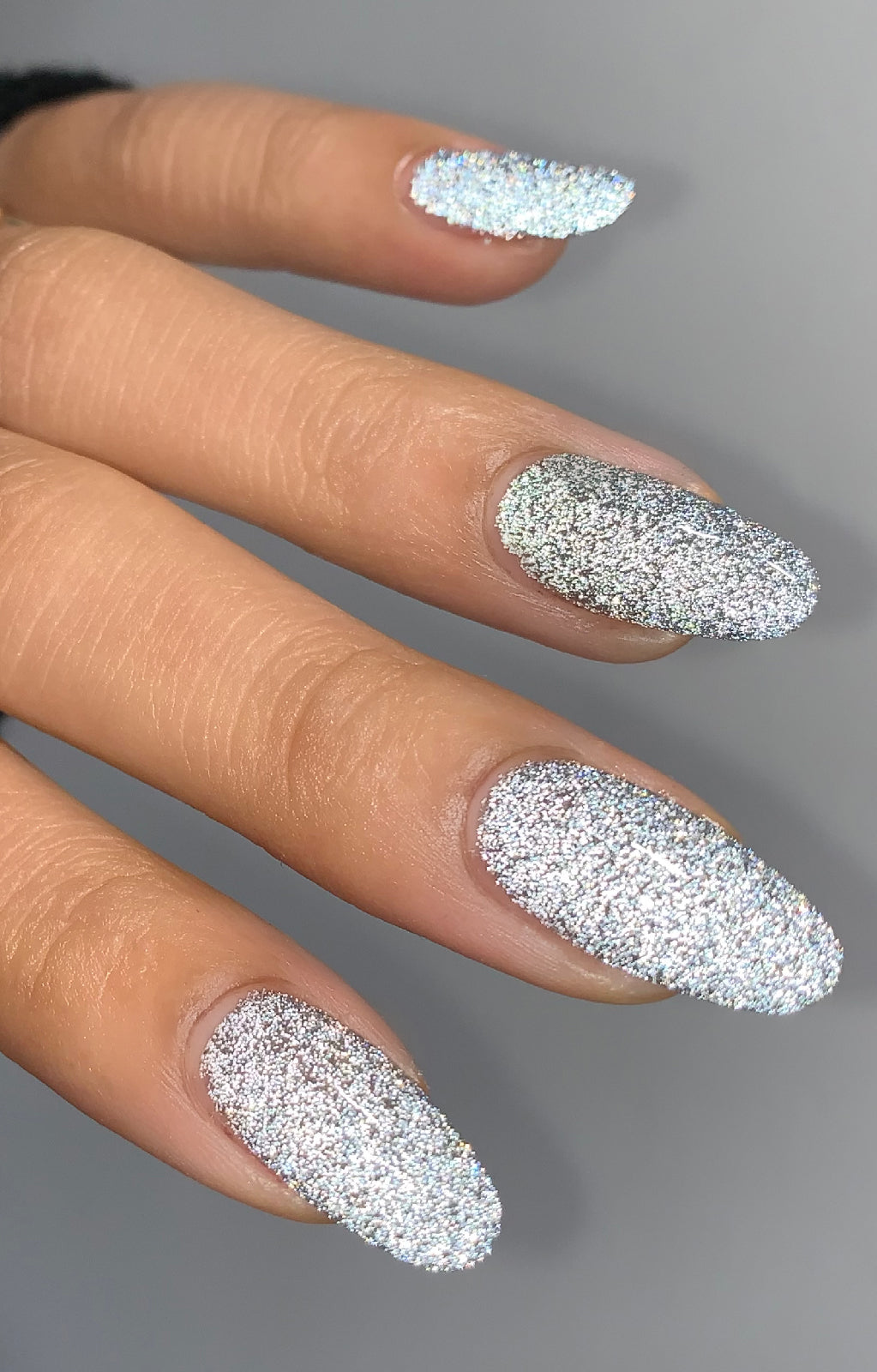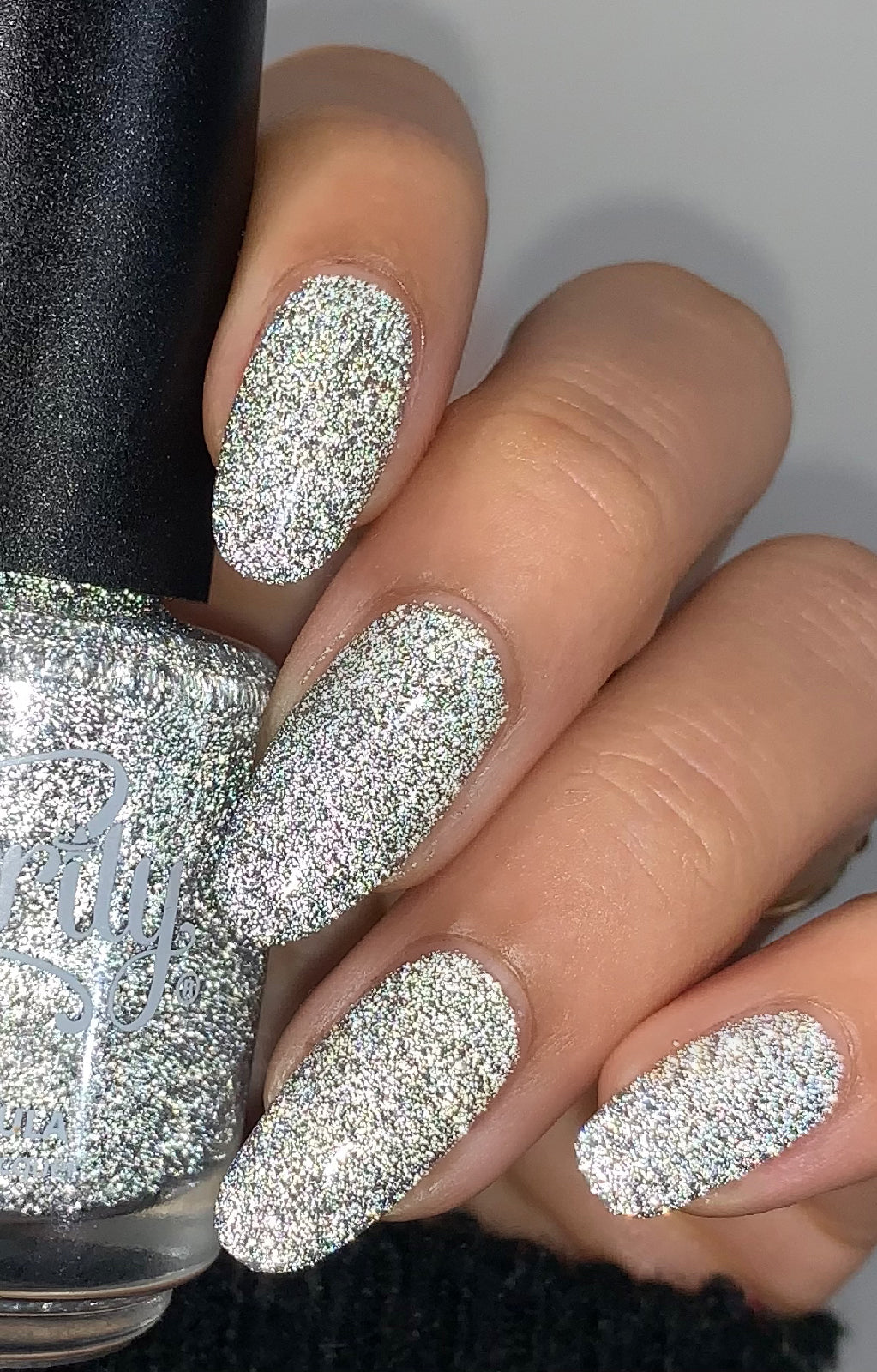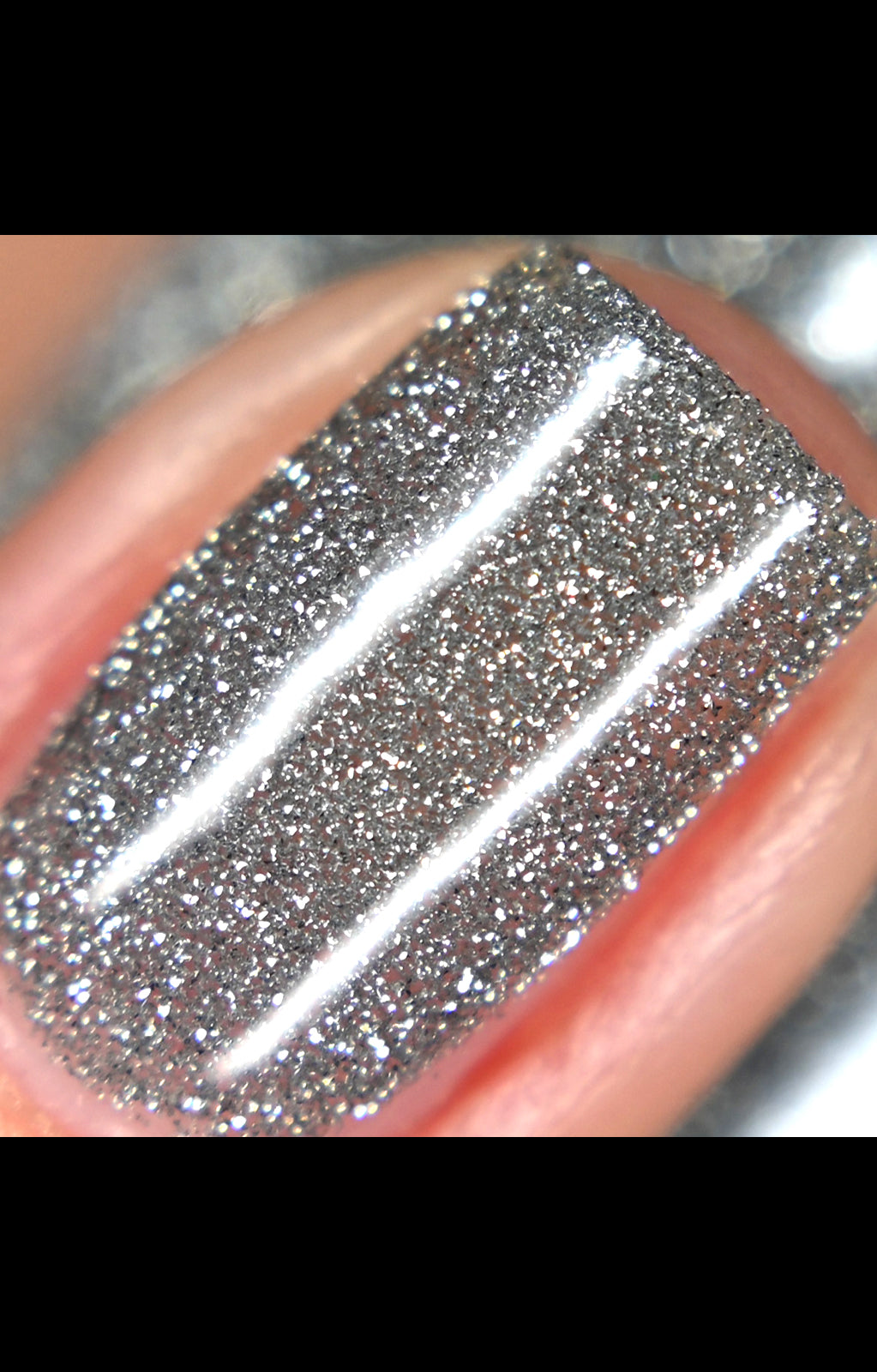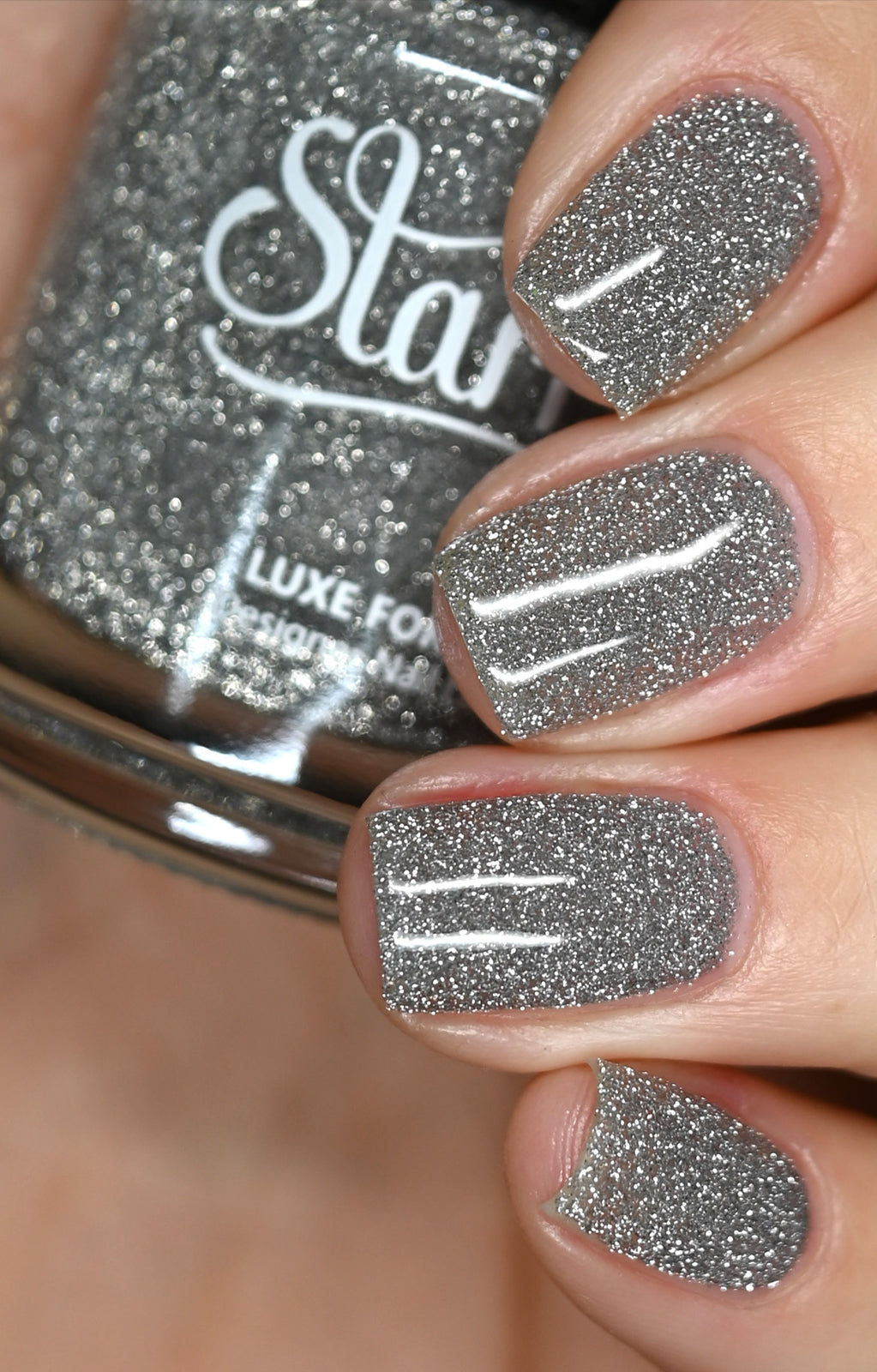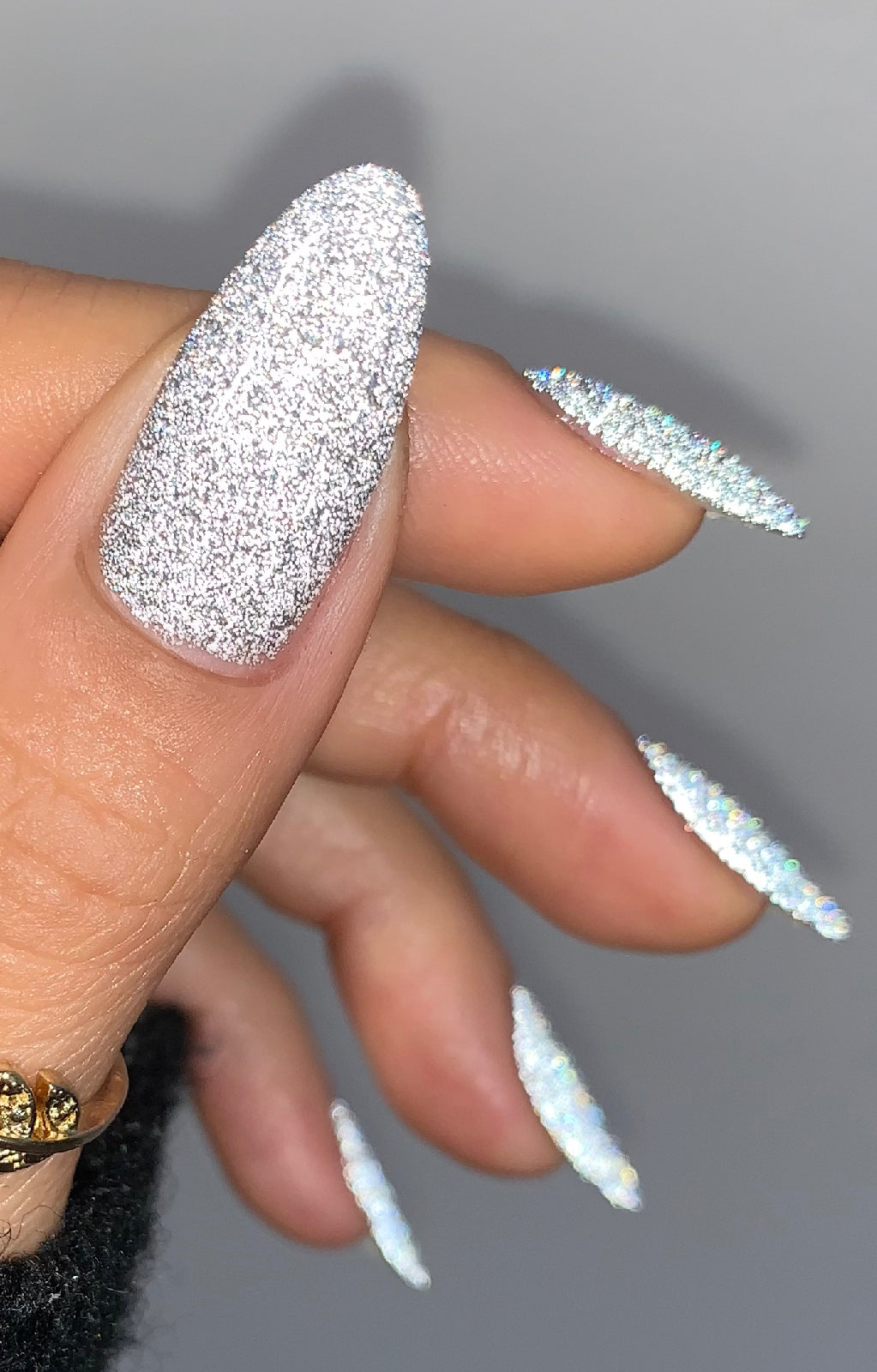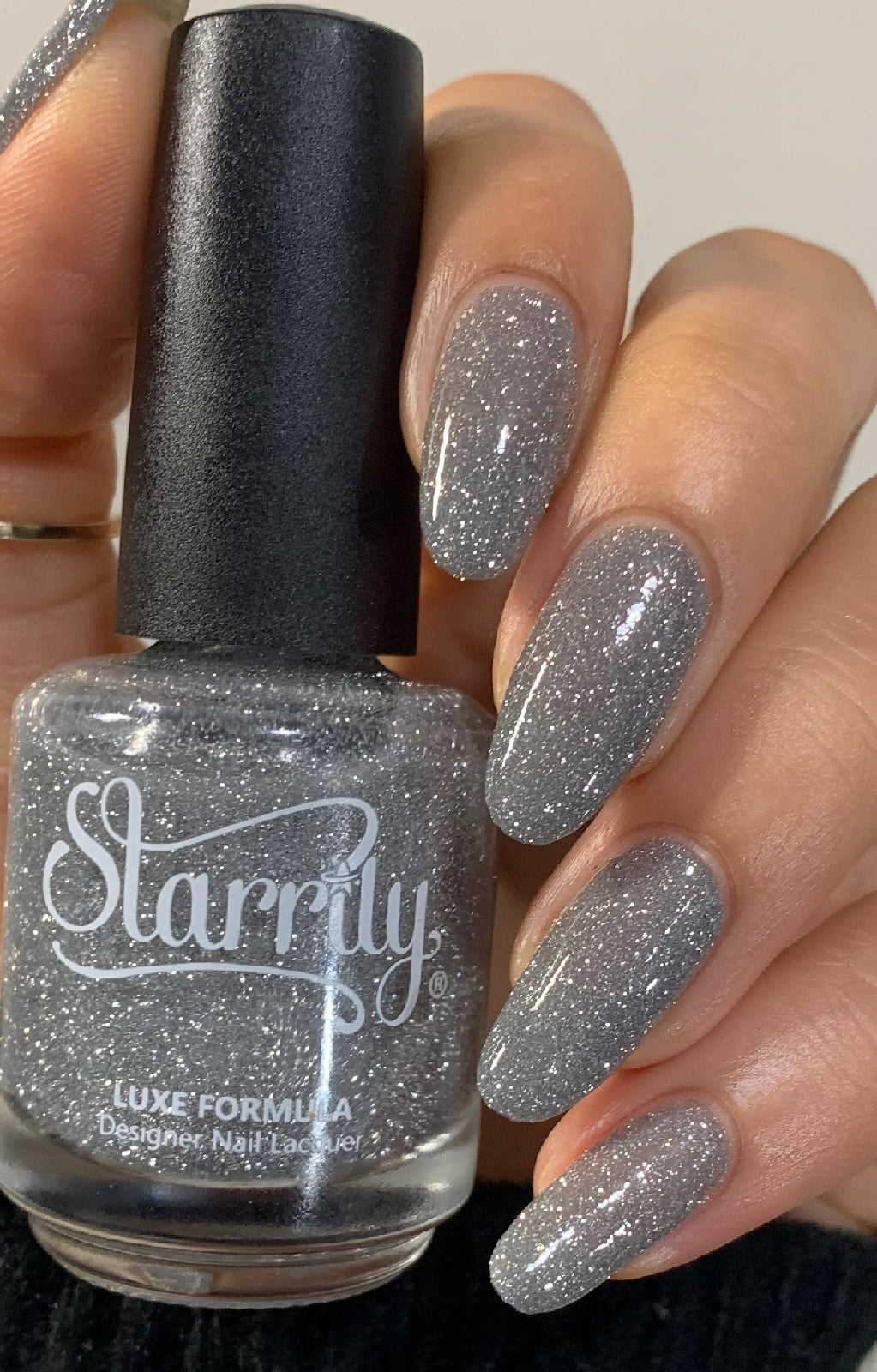 Crystal
---
Overview:
• Silver micro reflective glitter in a clear base
• Use alone in 3 coats or sponge on for full opacity
• Can also be used as a topper over other colors
• Dries textured, use several layers of top coat for a smooth finish

Description:
Imagine a world where your nails sparkle like diamonds in the night sky, where every move you make sends glimmers of light dancing across your fingers. This is the world of Crystal, a dazzling silver reflective nail polish that will transport you to a realm of glamour and elegance.
Each brushstroke of Crystal's amazingly reflective formula will have your nails sparkling like diamonds. The unique reflective properties of Crystal will make your nails look like they're alive with light and energy, just like the stars in the sky.
Wearing Crystal is like wearing a piece of the night sky on your nails, it's perfect for adding a touch of sparkle to any outfit, whether you're hitting the club or the office. It will make you feel confident, bold and unstoppable. With Crystal, you'll be the star of the show, turning heads and leaving a lasting impression. So, let Crystal take you on a journey of glamour and elegance, and let your nails sparkle like the night sky.

Crystal can be layered alone in 3 coats, sponged on for maximum opacity or it can be used as a top coat to add a magical reflective layer to any nail polish! This nail polish dries textured, use several layers of top coat if you are looking to get a smooth finish.
Crystal looks like a pretty silver nail polish in indirect light, but under direct light, like the flash of your phone or direct sunlight, is where it truly shines. Shine your phone's flashlight at your nails to check out this amazing reflective effect! 
For best results, start with a base coat and finish with a glossy top coat.

★ Certified vegan & cruelty-free nail polish
★ Made in the USA. 15 ml / 0.5 fl oz

Crystal
Sale price

$16.00 USD
Regular price
(/)
This product is rated 5.0 of 5.0 stars.
It has received 1 review.
When will I get my order?

Your order leaves our warehouse within 1-2 business days, shipping time depends on USPS for USA orders and Fedex for international orders.
Are your products 5-free, 10-free, 20-free, 50-free, 100-free?

5-free, 10-free, etc. refers to nail polish formulated without harsh ingredients. This terminolgy is ever evolving.

Our products are formulated without the following common ingredients, however, please view our full ingredients list to see if our nail polishes are free of the other chemicals that are marketed as 20-free, 50-free, etc:

Our nail polish does not contain: Formaldehyde, Toluene, DBP, Camphor, Xylene, Parabens, Ethyl Tosylamide, Fragrance, Phthalates, and Animal Ingredients
The nail polish I wanted is sold out, when can I buy it?

Due to high demand, we can not guarantee stock. We try to restock sold out products occasionally, you can sign up for email alerts when we restock them. You can sign up directly on a sold out product's page under the "email me when available" option.
Where are the products made and shipped from?

Our products are made and shipped from Cleveland, Ohio
No. We do not offer gel nail polish at this time.