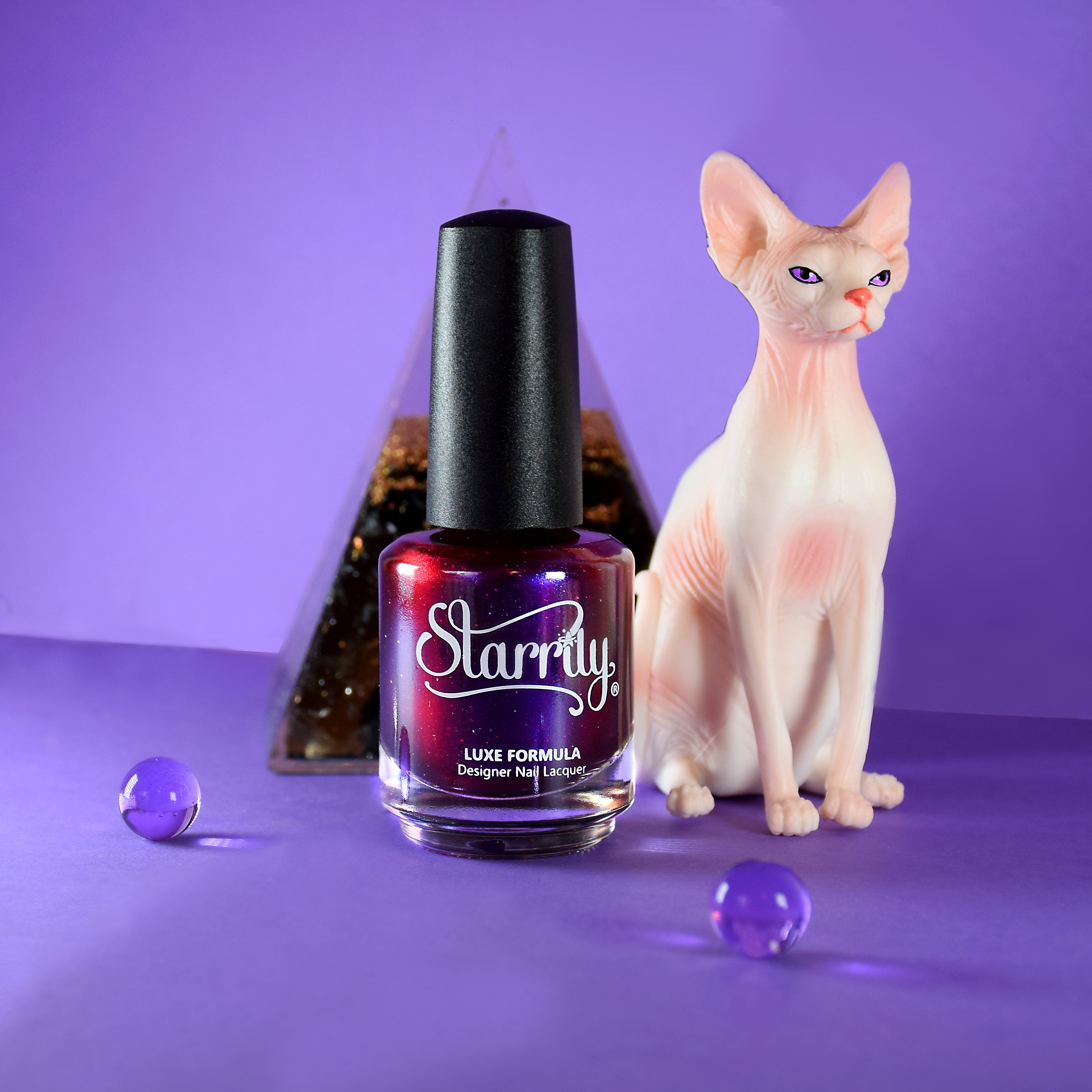 Sphynx
---
Overview:

• Red/Purple jellychrome with holographic flakes
• Color shifts from red to purple and blue
• Best applied in 2-3 coats 

Description:

Inspired by one of the most intriguing creatures in the feline world, Sphynx pays tribute to the unparalleled elegance and exotic allure of the Sphynx cat. Named after the legendary Egyptian sphinx, the Sphynx cat it known for its hairless appearance, expressive eyes and gentle nature, standing as an icon of distinctive beauty and intrigue. 

Sphynx is a beautiful symphony of color, a vibrant crimson foundation deepened by royal purple, intriguing undertones of brilliant blue and accented with a subtle sparkling of holographic flakes. This lavish blend captures the unique warmth and rich diversity of the Sphynx cat's skin tones. This breed stands apart in the feline kingdom with its distinctive body heat, a sensation amplified due to the absence of insulating fur. This sensory warmth is not only felt but also seen in their array of diverse and enchanting skin tones, each one reflecting their extraordinary uniqueness.
Sphynx nail polish is an immersive testament to the distinct beauty and mystique of the Sphynx cat. Celebrating their heat-retaining, wrinkle-rich skin and color-shifting eyes, this color extends an invitation to carry a piece of this enchanting creature's story on your fingertips.
★ Certified vegan & cruelty-free nail polish
★ Made in the USA. 15 ml / 0.5 fl oz
Tip: Always start with a base coat and finish with a clear topcoat.
Sphynx
Sale price

$22.00 CAD
Regular price
(/)
This product is rated 5.0 of 5.0 stars.
It has received 2 reviews.
When will I get my order?

Your order leaves our warehouse within 1-2 business days, shipping time depends on USPS for USA orders and Fedex for international orders.
Are your products 5-free, 10-free, 20-free, 50-free, 100-free?

5-free, 10-free, etc. refers to nail polish formulated without harsh ingredients. This terminolgy is ever evolving.

Our products are formulated without the following common ingredients, however, please view our full ingredients list to see if our nail polishes are free of the other chemicals that are marketed as 20-free, 50-free, etc:

Our nail polish does not contain: Formaldehyde, Toluene, DBP, Camphor, Xylene, Parabens, Ethyl Tosylamide, Fragrance, Phthalates, and Animal Ingredients
The nail polish I wanted is sold out, when can I buy it?

Due to high demand, we can not guarantee stock. We try to restock sold out products occasionally, you can sign up for email alerts when we restock them. You can sign up directly on a sold out product's page under the "email me when available" option.
Where are the products made and shipped from?

Our products are made and shipped from Cleveland, Ohio
No. We do not offer gel nail polish at this time.