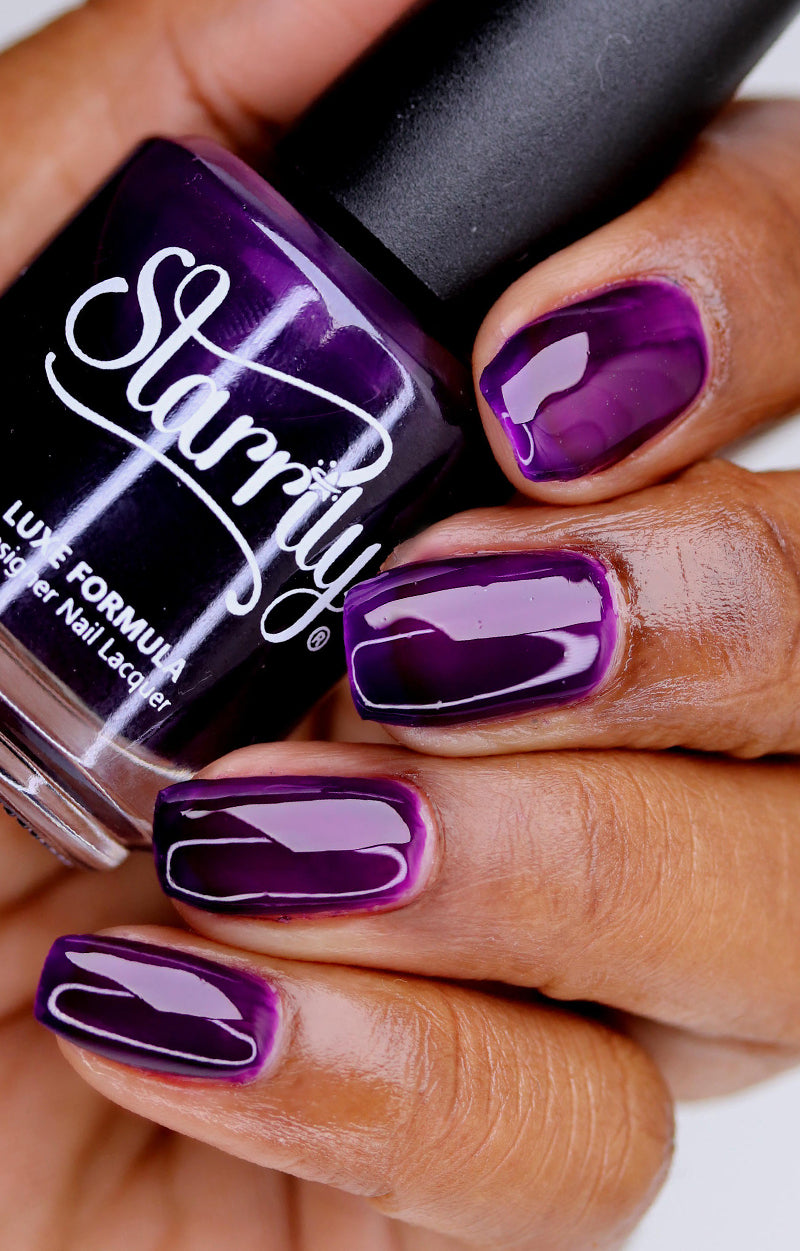 Crown Jelly
---
Overview:

• Warm toned sheer purple jelly nail polish with buildable coverage
• Use alone or combine with effect nail polishes 
• Best applied in 1-3 coats
• 3rd picture shows jelly combined with King Midas, Space Debris, Amulet and Ultima. 
• 10% of sales will help protect the ocean
Description:

Embrace the majesty of the sea and the allure of royalty with Crown Jelly, a warm-toned purple polish inspired by the elegant Crown Jellyfish. This luxurious hue is a decadent regal purple. This shade provides a royal touch to any ensemble, elevating even the simplest of outfits into something truly special. A single coat graces your nails with a sheer wash of purple, delicate and ethereal, like the translucent bell of the Crown Jellyfish floating serenely in the ocean. But layer it on, and you'll see the color mature into a resplendent, full-bodied purple that commands attention, much like a royal crown sparkling in the light.

The true magic of the Jellyfish Journey collection lies not just in their inspired colors but also in their extraordinary versatility. These polishes are designed to be your go-to for any occasion, offering a range of looks as diverse as the jellyfish that inspired them.
Jelly Sandwich: For a whimsical touch, layer your favorite jelly shade between a coat of glitter, shimmer, magnetic, or any other special effect polish. The jelly-like translucency allows the glitter to peek through, giving you a sparkling, multidimensional look that's as enchanting as the dance of light through water.
Stained Glass: Wear any of these jelly shades on their own for a pure, glass-like, wash of color. With just a single coat, you get a soft, elegant look. Double up for a more vivid, deeper hue.
Tinted French Mani: Use a Jelly shade instead of the traditional pink. This adds an unexpected pop of color that's both sophisticated and modern.
White Overlay: For an extra punch of color that's still translucent, try applying your jelly shade over a white base. This technique intensifies the color while maintaining its jelly-like quality, offering a bolder take on these otherwise soft hues.
Ombre: Use two or more Jelly shades to create a beautiful gradient effect. Try painting half of your nail red and the other half blue, you should see a blue shade in the middle where the blue and red overlap.
With so many ways to wear these Jelly shades, your nails can be as dynamic and versatile as the jellyfish that inspired them. Dive in and let your creativity swim freely!
10% of sales from the Jellyfish Journey nail polishes will be donated to protect our oceans and marine life.
★ Certified vegan & cruelty-free nail polish
★ Made in the USA. 15 ml / 0.5 fl oz

Tip: Always start with a base coat and finish with a clear topcoat.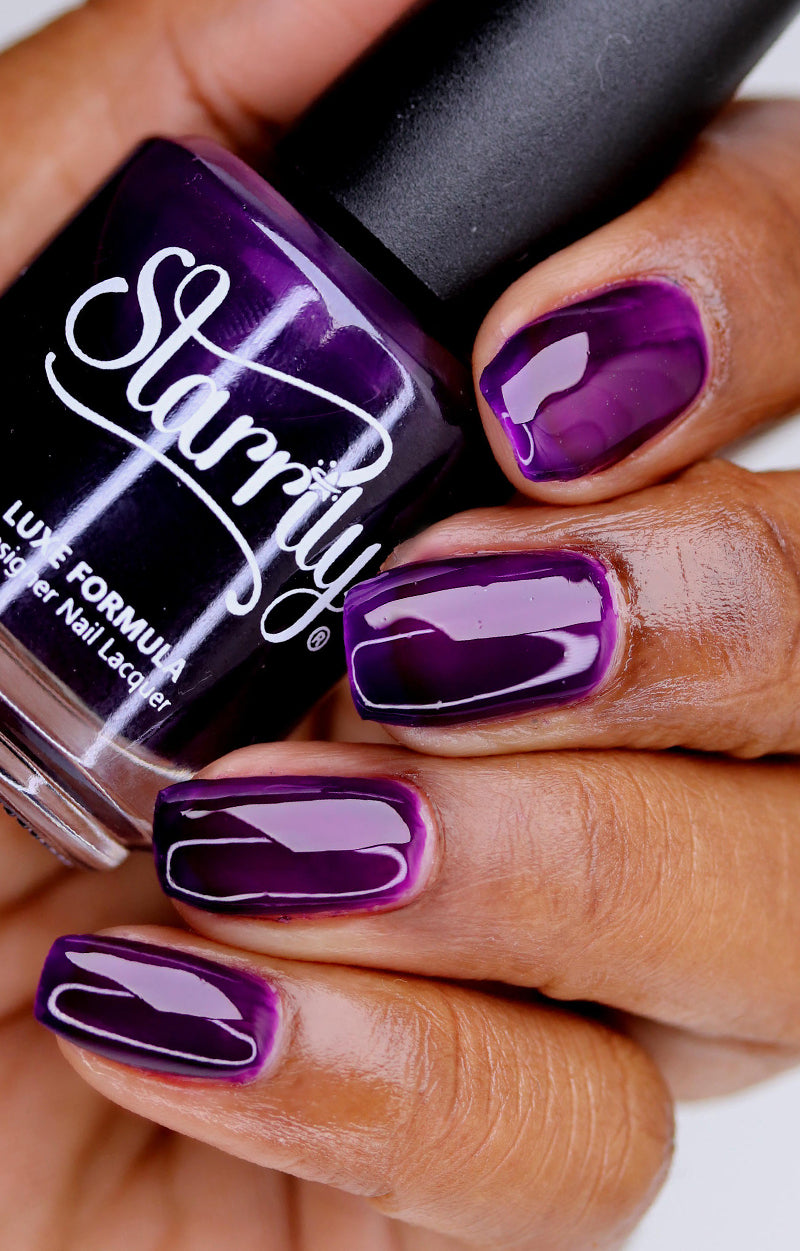 This product has no reviews yet.
When will I get my order?

Your order leaves our warehouse within 1-2 business days, shipping time depends on USPS for USA orders and Fedex for international orders.
Are your products 5-free, 10-free, 20-free, 50-free, 100-free?

5-free, 10-free, etc. refers to nail polish formulated without harsh ingredients. This terminolgy is ever evolving.

Our products are formulated without the following common ingredients, however, please view our full ingredients list to see if our nail polishes are free of the other chemicals that are marketed as 20-free, 50-free, etc:

Our nail polish does not contain: Formaldehyde, Toluene, DBP, Camphor, Xylene, Parabens, Ethyl Tosylamide, Fragrance, Phthalates, and Animal Ingredients
The nail polish I wanted is sold out, when can I buy it?

Due to high demand, we can not guarantee stock. We try to restock sold out products occasionally, you can sign up for email alerts when we restock them. You can sign up directly on a sold out product's page under the "email me when available" option.
Where are the products made and shipped from?

Our products are made and shipped from Cleveland, Ohio
No. We do not offer gel nail polish at this time.